Indonesia was famous as one of the most creative country in Southeast Asia. So it's not a big surprise that there are many digital sticker designer in Indonesia. Around last month we were asked to become a co-founder of Stickeren (in English means: CoolSticker), community for Indonesia digital sticker designer together with our fellow from Jotter Pro and Segocha.
After a couple of small meetups, now we're ready for something quite big. By Friday, 4th September 2015, we will held the first Sticker Talk. It would be a gathering for digital sticker designer or those who interested to enter the digital sticker industry. There will be presentation about digital sticker too: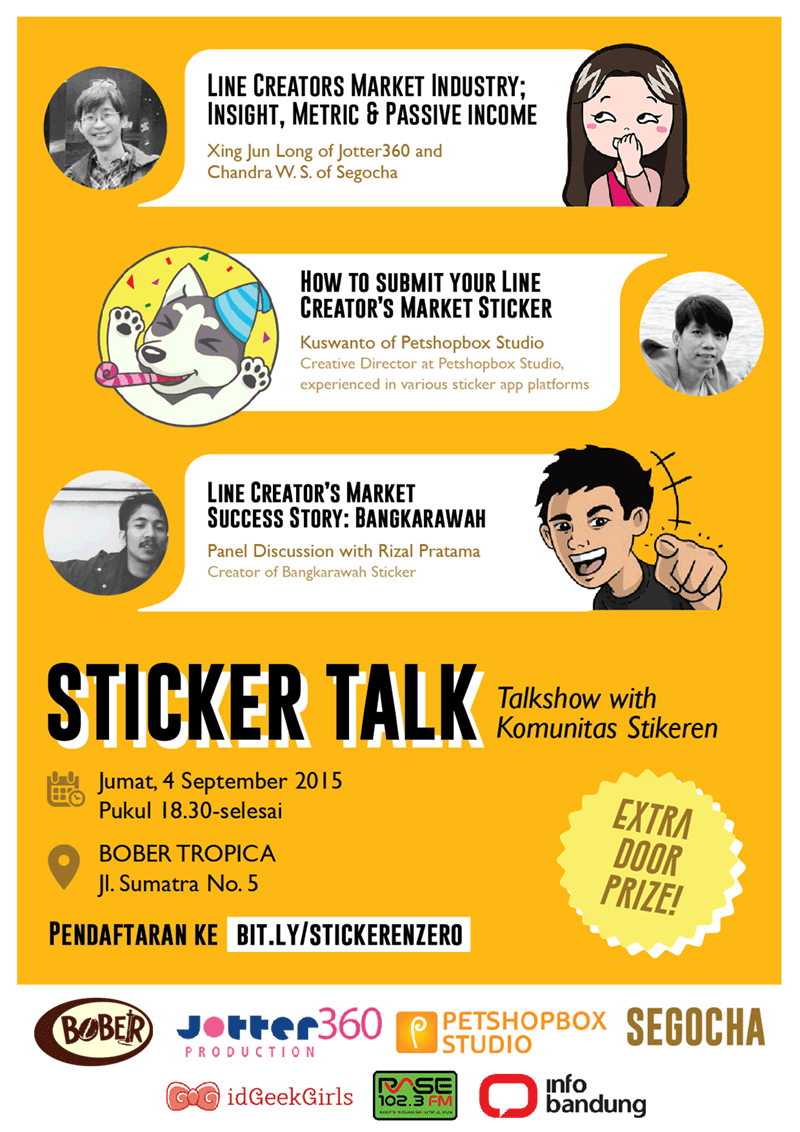 Line Creators Market Industry: Insight, Metric and Passive Income; will be presented by Xin Jun Long from Jotter Pro and Chandra WS from Segocha. As top ranking stickers designer, they will share about the lucrative world of digital sticker and how it would become a good passive income for designers.
How To Submit Your Line Creators Market Sticker; will be presented by Kuswanto from Petshopbox Studio. He will share about how to prepare and submit your sticker design to Line Creators Market reviewer so it wouldn't suffer delay due to too many revisions.
Line Creators Market Success Story: Bangkarawah; he was one of the most selling digital sticker on Line Creators Market Indonesia. The presentation will be held in panel discussion style emphasizing on his success story and tips for another designer who intended to follow his steps.
The first Sticker Talk would be more about Line Creators Market. As the second mostly used chat app in Indonesia, Line Creators Market was consider as the most attractive platform for Indonesia designer. It was proven as a lucrative platform, most sticker designer start their career on Line Creators Market and some of them succeed to rack impressive amount of money from their stickers.
Sticker Talk would not become a reality if not because of our beloved sponsor, Bober Tropica which provide the place and dinner meal for all participants. Our media partner idGeekGirls, @InfoBdg and Rase FM which help us spread the words. And if you like to join us in the amazing world called digital sticker industry, register yourself and please come early at the d-day because we have secret gifts for the earliest attendees.
See you at the Sticker Talk.