Year 2013 will come soon. That's mean, our little chubby cat, Puss In Box, will soon celebrated his second birthday. And, for that we have redesigned Puss In Box website as an early birthday gift for him.
What's stay:
It's Still Purple
Puss In Box new website design still mainly consist of purple color. Why purple?. Because Petshopbox Studio corporate color was orange. Purple is the best complementary color for orange. So, in case we have to put Puss In Box and Petshopbox Studio website side by side, it will look good together.
It's Still Full Of Puss In Box Artwork
We <3 Puss In Box, you know it. And, because this is his website, so it is going to be full with his artworks. We just cannot stop creating art of him.
What's new:
Tumblr Theme
Now, Puss In Box website used Tumblr theme. We chose to use Tumblr theme because Tumblr have many advantages for portfolio type website. Perfect theme for Puss In Box.
Better Image View


On the old website, we have difficulties to show off all artworks without making the post was too long. Now it's can do. The images were small, you just need to click to enter image view feature that show all images in slideshow manner full screen. If the full screen view was grainy, just wait a while.
Download What You Want

If you had a chance visited Puss In Box old website, and try to download, you would get all artworks that available even the ones that you don't need. Now, you can choose which artworks you want to download. If you click mobile phone icon, it will take you to Puss In Box mobile phone wallpapers download link. If you want to collect all artworks, just clicks all icons.
Puss In Box Diary

We have been acting like overprotective parents and never told anyone about Puss In Box's history before he becomes our beloved cat. Now we share his story with the world. But you have to be patient because we will reveal it bit-by-bit. Someday, we will compile it and make Puss In Box biography.
What's Next
Regular Puss In Box Freebies
We will share Puss In Box freebies regularly. If you have an idea for Puss In Box freebies theme, don't hesitate to contact us. If Puss In Box love your idea, we will use it.
You and Puss In Box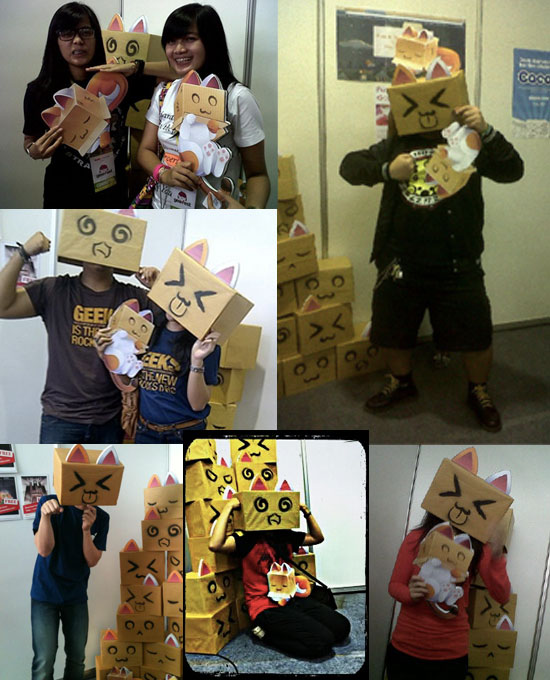 Just send us everything about Puss In Box! We'll be more than happy to show it on Puss In Box website and Petshopbox Studio Social Media accounts. Fan arts, photos, cosplays? send to us!
Puss In Box Merchandises

Coming Soon in 2013. RSS us or Puss In Box to be the first to know.