When 57digital contacting us asking if we were interested in creating illustrations for their Minecon booth, it's ridiculous if we rejected it. We know what Minecraft is. We know that Minecraft is very famous. Unfortunately, it was not famous at all here in Indonesia. We were contacting everyone we know, and only one of them playing Minecraft.
So, we started with research. We spend all day researched about Minecraft from the internet. And, based on the data we got from the research, we started creating sketches.
Our client, 57digital, developing very successful app for Minecraft player named Minecraft Explorer Pro and Minecraft Skin Studio. The illustrations were going to be used as 57digital's booth backdrop in Minecon (Minecraft Convention) in Paris, France. The initial design was the booth would have three walls on the right, left and back the display table. Our basic idea was to create one continuous illustrations that would fit in the three walls perfectly.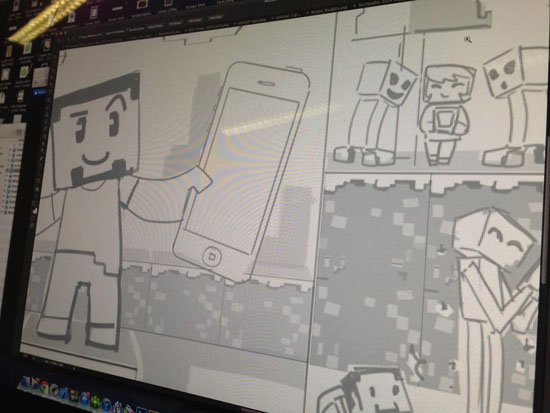 We were using Minecraft characters on the illustrations. All characters holding iPhone or iPad because 57digital's Minecraft app was developed for iOS. The big Minecraft guy in the middle was Steve, Minecraft main character.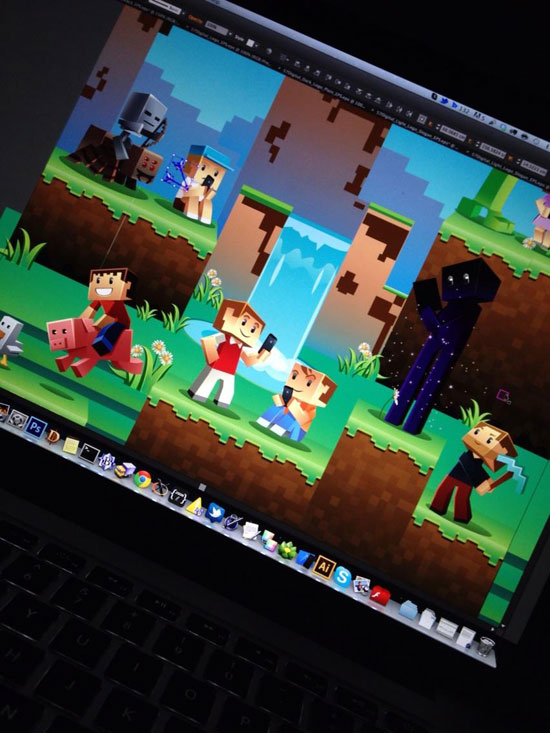 After client approve our sketches, we continue into coloring process. The original Minecraft design style is very 8bit with limited colors. We want to create Minecraft characters and environment that looks like 8bit 3D style with more vibrant colors.
So basically what we did was creating illustrations it consists of hundreds or maybe thousands colorful blocks, on top of each other, to create Minecraft characters and environment. We also try to calculate the positioning of each character because if we put them too low, audience inside the booth will block it from another audiences view. If we put them too high, they will look like flying above everyone's heads.
We love the results, our clients love the results…
And when we thought that it was all finished and they already have a blast at the convention, they were contacting us again. Turns out, the convention was not started yet (blame on me. I shouldn't forget to put the Minecon date on my calendar) and they need Minecraft style tablecloth.
For the tablecloth our clients already have their concept. Tablecloth was something that very ordinary and we believe many people won't even notice if one table at the convention has tablecloth or not. But, we want everyone to notice the tablecloth. We want everyone who saw the tablecloth on the convention think how cute it is and want to have it.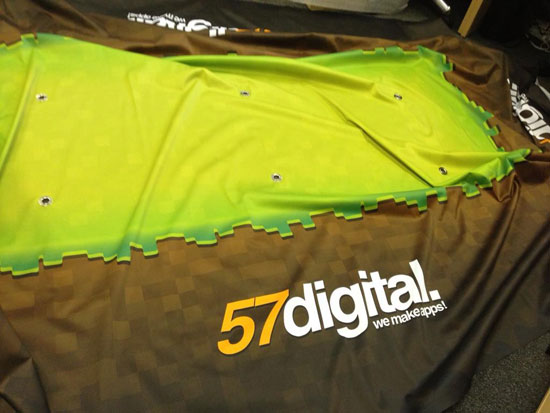 We only need one day to finish the tablecloth. Our clients were also in a hurry to finish it as soon as possible before the Minecon start soon. And, things went very smoothly, we love the results, they love the results too.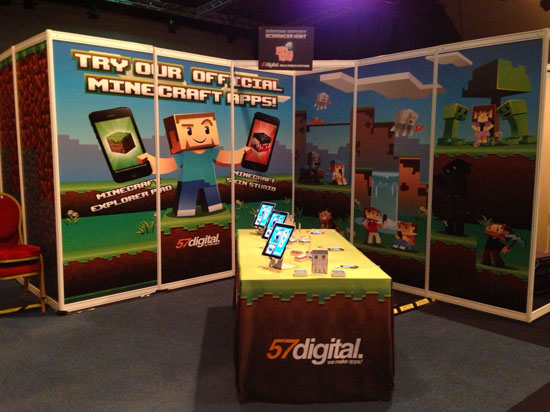 When the Minecon begun, they sent us videos, pictures and they tweet many pictures from their booth. Turns out, on the Minecon, their booth only have two walls. But the design still work really well, and the print out quality is very good. We love how the tablecloth looks very good. 57digital team looks like having so much fun. Check some photos and video below.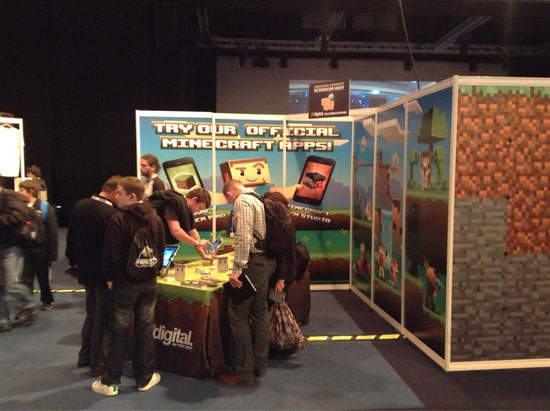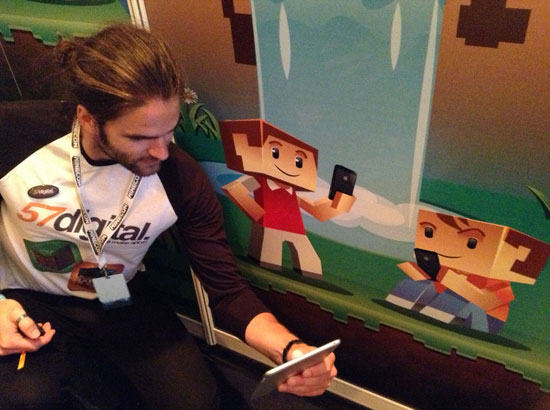 We were very happy that our client had a succesful Minecon event. They told us that many audiences love the backdrop too. Thank you 57digital for trusting us creating design for your booth. Cheers!